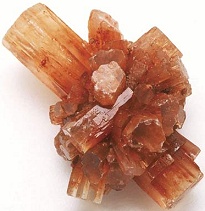 Named after a village in Spain, Molina de Aragon, where it was first identified. Aragonite has the same chemical composition as calcite, but with different crystal structure that makes it harder and heavier. This beautiful crystal brings to mind an association with alternate reality and expansion of consciousness. Its ability to spark creative imaginative thought makes aragonite a good stone for a new way of thinking.

Color: orange, golden brown, green, blue, yellow, white
Found: Namibia, Britain, Spain

Crystals form long six sided prism around a common center. These clusters are called sputniks. Tumbled stones often resemble solidified honey. Varieties of aragonite include; iron flower (flos ferri), a fine dendritic aggregate. Pea stone, a mass of pea sized lumps in a matrix. And sprudelstein, which has different colored bands of agate.

Stabilizing stone that pulls elements together and provides a safe grounded base to explore new possibilities. Releases feelings of stress and impatience. Combats oversensitive and helps with problem solving. Aids in focus and concentration useful for studying and taking exams. Centering-restoring balance good for meditation, strengthens immune system, grounding. Earth healer and encourages conservation and recycling. Transforms earth geo stress and clears blocked ley lines. Brings clarity of mind and expression, steady nerves. Practicality, self discipline, centering.