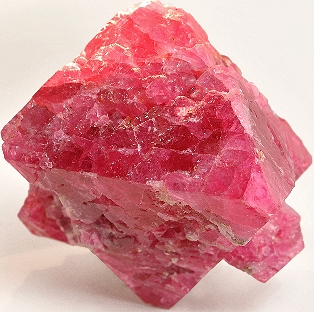 Rarely forms large crystals and often resembles thorns or spines from which it takes its name. High grade spinel's have a brilliance almost as much as diamond making them popular for jewelry. This stone was traditionally worn as a good luck charm and to inspire great ideas. Also like other red stones spinel was used as a remedy for bleeding.

Initiating - Focusing - Cleansing. Assists in making important decisions and then taking action on those decisions. Directs healing energy to the areas of the body that require attention, helps the body detoxify itself. Especially effective for healing deep into the body tissues. Helps loosen stiff muscles and gives a boost when our energy is low.

To release blocked energy use spinel and clear quartz together. For a dull headache, place one spinel on the forehead and three clear quartz points facing out above the top of the head. For digestive cleansing, place one spinel on the navel, and two quarts points below the feet, points facing away from body. To increase creativity, place one spinel at the sacral chakra; one turquoise at the throat chakra; and one smoky quartz below the feet.